Proudly supporting the Midlands Air Ambulance Charity since 2002
'BIKERS' NITE' - Supporting village pubs in and around the Cotswolds
whilst raising funds for the Midlands Air Ambulance Charity
who would support us, should we ever need them.
COTSWOLD BIKE MEETS FOR ALL BIKERS
Every Wednesday, different pub,
between mid-April and early October
, please v
iew the PUB LIST (LIST/MEETS) for details.
All Bikers, riders, motorcyclists and enthusiasts of all ages are welcome to come to these meets. From learners to hard core bikers, scooters to anything on 2 or 3 wheels.
We are not a club, so there's no membership fee to pay, but p
lease give a donation towards
our chosen charity,
the Midlands Air Ambulance Charity (MAAC)
when you attend.
Alternatively, you can purchase a seasonal Pin Badge, during the meets, which will save you having to remember to bring cash with you to future 'BIKERS' NITE' meets during the year.
See MERCHANDISE page for details and for other items.
Seasonal PIN BADGES: Reduced to £6 each! Cash only.
'BIKERS' NITE' bike meets on
the LIST/MEETS page.
THINK BIKE MEET, THINK AIR AMBULANCE!
Huge Thank You to everyone who attended the Bike Meets and
supported the Midlands Air Ambulance Charity over the past 21 years.
Last year we raised £15,000 for the MAAC.
So far this season we have raised over £16,700
To date, we've generated £132,934.00
for the MAAC
since we started in 2002.
We've also raised funds for other charities over the years.
This year we helped Joseph raise almost £500 for Cancer Research.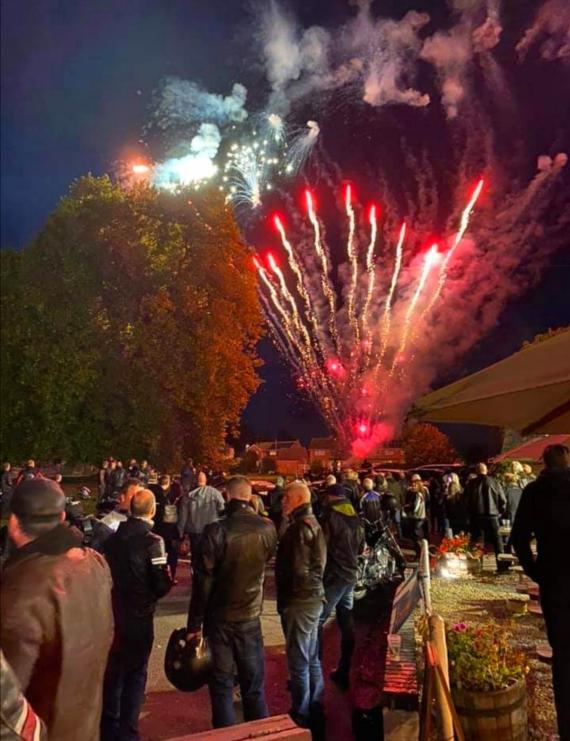 Organizer of 'BIKERS' NITE' - Stephanie Shaw
Midlands Air Ambulance Fundraiser of the Year 2016
Winner of the MAAC Community Fundraiser Award 2022
WINNER of BBC RADIO GLOUCESTERSHIRE
Make A Difference Fundraiser Award 2023
(Which has recently been announced!)
For further information phone or text
07974 860624
~~~~~~~~~~~~~~~~~~~~~~~~~~~~~~~~~~~~~~~~~~~
This website was last up-dated on
29/09/23